Tasty Humans is the latest, and in my opinion, the greatest creation of Pangea Games. It's a tile-placement, puzzle-solving board game for 1-4 players about villagers attacking monsters. Except it's from the monsters' point of view! The Tasty Humans Kickstarter went on to raise $20,536 and then several thousand more on BackerKit for a total of $28,000 and counting.
It's been an extraordinary privilege of mine to work with Ryan Langewisch, the designer of the game as well as Tyson Mertlich, the developer who helped make the magic happen so early on. They were the creative force behind the game, and really, the soul of it.
But my role? I took their work, which they had so painstakingly and lovingly created, and marketed it before printing it and sending it around the world. I talked about fulfillment already. Today, I'm going to talk about how we got this game printed.
Need help on your board game?
Join my community of over 2,000 game developers, artists, and passionate creators.

What goes into printing a board game?
I've written before about the surprising amount of responsibility that goes into printing a board game. You can read more about that by clicking on any of these articles.
To make a long story short, though, it's not just about finding a good printer. You have to create files which your printer, which is likely overseas, can use to start creating a physical product. You have to painstakingly describe every detail of how you want the game crafted. Failure to do so will lead to misprints on a massive scale. Needless to say, the process is intense.
How'd we find our printer?
Early on in the manufacturing of War Co., and then as part of the research stage for the ill-fated Highways & Byways, I became personally familiar with the work of at least half a dozen different board game printers.
For Tasty Humans, we created a detail spec document and requested a quote from each printer. For those whose quotes were reasonable, we ordered samples and then went with the highest quality. That turned out to be a relatively small shop in Hong Kong called BangWee whose quality and price both turned out to be shockingly good.
It was initially the recommendation of Jesse Bergman from a long time ago that made me first aware of BangWee. He used them when printing Battle for Sularia. For whatever reason, I remembered the name, looked them up, and the rest was history!
How did we make the game specs?
As I discussed in How to Create Board Game Specs and Files for Your Printer, your role in printing, as a game developer, is to create specs and files. Specs are how you request quotes and describe the game that you want to create. Files are what you give to the printer so that they can create it.
The specs for the Tasty Humans base game were as follows:
---
COMPONENTS
SIZE
COLOR
MATERIAL
SURFACE TREATMENT
QUANTITY
REMARKS
Box
290 mm x 220 mm x 40 mm
4C/0C
high density mounted cardboard
Matte lamination
1
N/A
Board
254 x 190 mm
4C/0C
2mm high density mounted cardboard
Matte linen
6
each board is unique, no fold
Punchout Board
237 mm x 211 mm
4C/4C
2mm high density mounted cardboard
Gloss
3
72 tiles, each 20mm square, 1 die-cut pattern
Cards
Poker size
4C/4C
300gsm bluecore (standard)
Matte
54
2 backs
Rule Book
A5
4C/4C
128 gsm gloss paper
1
12 pages
Plastic Disc
18 mm dia
Yellow
N/A
N/A
1
N/A
---
When then had to make a few modifications to accommodate stretch goals and a last-minute change in materials, but this at least gives you an idea of what specs look like.
How did we make the game files?
When then had to start creating the files themselves. Empty files are simple. You have lines for "margin", "trim", and "bleed." All the text and important stuff that absolutely must not be cut off must be placed in the margin. The trim line is where a card, board, or other component is intended to be trimmed by a machine. The bleed gives you a little bit of room for error if the machine cuts a bit too far in one direction.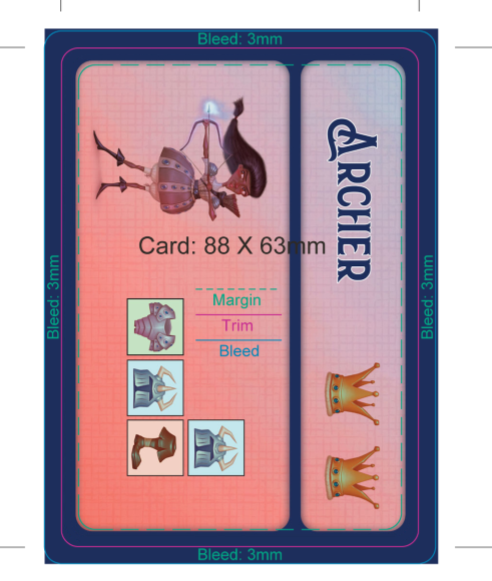 Using the above as an example, BangWee gave us files containing nothing but the lines you see above. We then paste our art into their files and make sure everything lines up. So, as you can see, everything important on the card is within the margin. We want a thin blue border on every card, so the trim line means a perfectly cut card has 3 mm of blue on all sides. The bleed area makes sure you still see blue even if the cutting machine is off by 1 or mm.
So we followed this basic process for the box, boards, rules, cards, and tiles.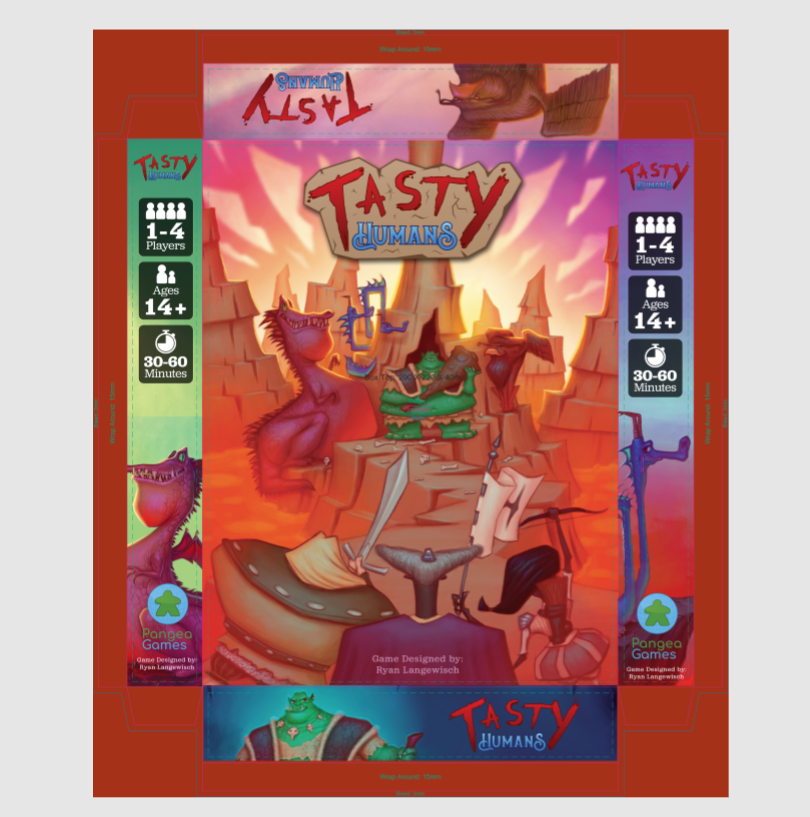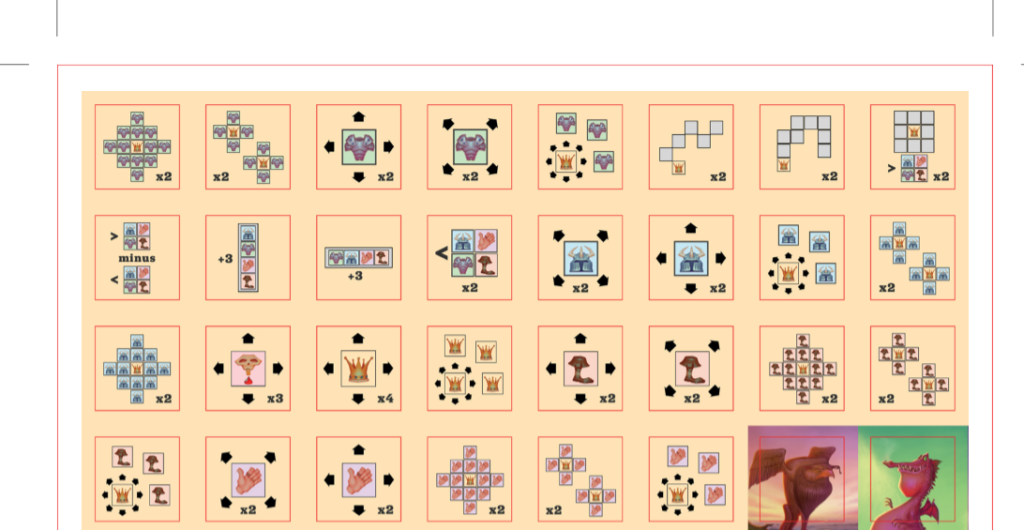 The only component in the game that did not require full color print files was the king piece. That required a simple vector graphic which BangWee would then use to carve tiny pieces into wood, which would then be later painted yellow.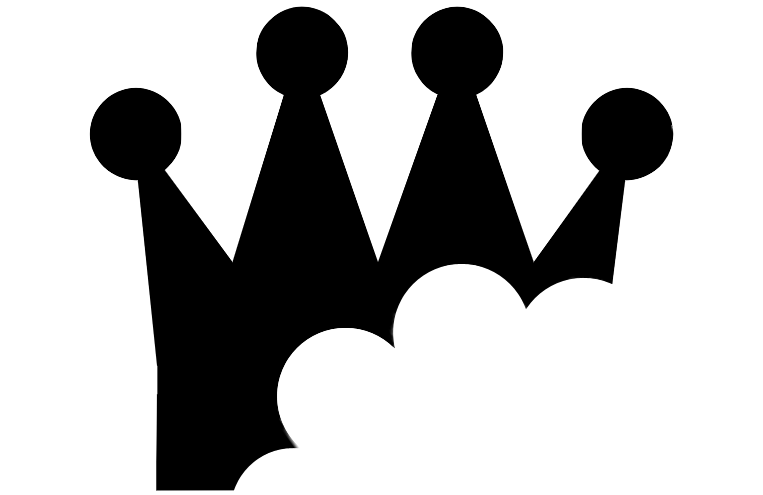 A minor hiccup in quality control
One of the difficult things about printing board games is that you almost inevitably end up outsourcing outside of the country. Most companies you work with online have customer service based in the US to reduce the possibility of errors in communication. Unfortunately, this drives up cost.
What happened in our case is that we initially requested that BangWee use a certain kind of material for the boards. It was different than what we expected, so when we received a sample of the material, everything except for the boards looked good.
In truth, we just asked for the wrong material. We then requested that they switch the board material to match that of one of the samples (of other board games) they sent us. This then required us to recreate board files based on different specs after the conclusion of the campaign. We were under a time crunch and had to turn around new boards very quickly.
Again, this was our fault and we fixed the issue in about two weeks' time. BangWee then delivered early, meaning that the project was not delayed because we changed board materials.
If we had to do this again, we would have requested a sample specifically of Tasty Humans from BangWee after the game funded but before the campaign concluded. That way, we could have fixed these issues before the funds cleared.
Another minor issue that we resolved shortly after receiving our first Tasty Humans prototype was ink oversaturation on the box and the rules. That was a quick fix on Photoshop. PrintNinja has a good tutorial to explain what we changed.
What did we do well?
BangWee did a phenomenal job with the printing. We could not be happier with the way the games turned out. For that reason, we are very glad with our choice in printer and for our good research and sampling process. If we had to do this 10 times over, we'd print with BangWee every time.
What would we have done differently?
If we had to do one thing differently with the printing of Tasty Humans, it would be ordering a prototype of the game with all stretch goals after it funded but before the campaign ended or the funds cleared. In short, this would make sure we didn't pay unnecessary sampling costs while giving us the time we needed to fix problems.
As a rule of thumb, I highly recommend anyone who is printing a board game to assume that you will need to sample your game twice. The first time is to give you a chance to correct issues and the second time is to make sure your fixes turn out the way you wanted them to.
Final Thoughts on Printing the Tasty Humans Kickstarter
Overall, we were very happy with how the printing process turned out! Our files were pretty close to print-ready without changes and BangWee did excellent work. If we had to go back and time and do this again, we would do just one thing differently: give ourselves a little more time to sample and prototype!