Dev Diary posts are made to teach game development through specific examples from my latest project: Highways & Byways. Just here for Highways & Byways updates? Click here.
---
Highways & Byways launches on Kickstarter March 26. As of the time that I'm writing this, that's a little under a month away. Things are starting to get hectic around the Pangea Games office / my home office. Just this week, I've cranked out six blog posts to build up my backlog, created the Kickstarter campaign video, finalized my manufacturer choice, reached out to my manufacturer and fulfillment partners, finished a giveaway contest and started another, then started researching stretch goals.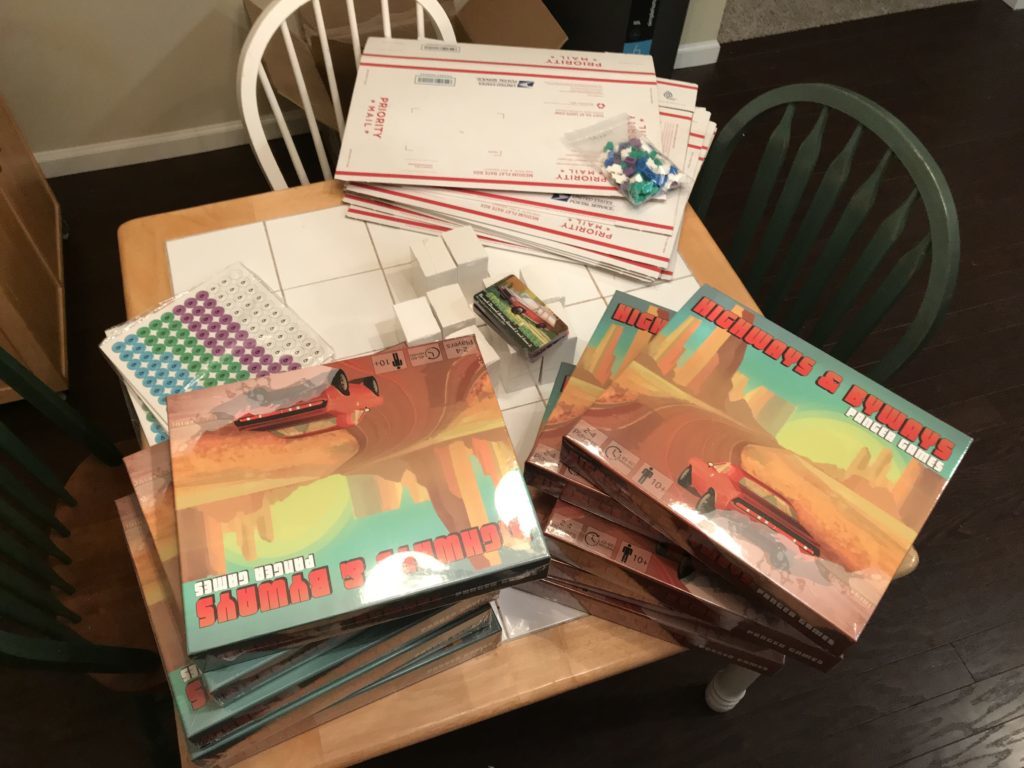 Need help on your board game?
Join my community of over 2,000 game developers, artists, and passionate creators.

I'm a big proponent of working smart before you work hard. I've written about how critical time management is to your success in game development. I've also talked about how you can't reliably speed up game development when you work alone or in a small team. But you know what? Sometimes you have to put in an 80-hour workweek to make it happen.
That's what I've done for the last couple of weeks to prepare for Highways & Byways. I started game development fairly recently and have one game published. That means I'm working 40 45 hours per week as Systems Analyst. Then I put in another 35-40 on Highways & Byways because some of this stuff cannot be cut short. Video filming and editing are unavoidably time-consuming. Writing blog posts – at least my long-form Start to Finish posts – take a few hours each. Setting up the Kickstarter page, checking my cost tables, doing streams…all of this takes T-I-M-E!
With all this in mind, I've prepared a checklist for myself that I'd like to share with you. It's a list of everything you need to take care in the time span between "a month before" and "a week before."
1 Month to 1 Week
Kickstarter Checklist
Prepare for long hours. This is unavoidable when you get really close to a campaign, so embrace it.
Draft the Kickstarter campaign page. You need to have a version you can show to others at least three weeks before the campaign.
Make the video. You need to film, edit, and post your video at least three weeks before the campaign.
Clear your schedule. Take off work on the day you launch the campaign. If you run a blog or website, create a backlog of content to last you through the campaign. If you have another business or other commitments, see how much of that you can defer to a later time or ask someone else to take care of.
Submit your Kickstarter campaign for approval. Sometimes Kickstarter drags their feet on the approval process, though it's usually 7 days tops. Even still, you want to have your Kickstarter ready to go with the green Launch Now button 2 weeks out.
Set up Google Analytics on your campaign page. This will help you see where your pledges are coming from for your future knowledge.
Double check your cost projections and budget. You need to be ready for funding anywhere between your goal and a million dollars. Can you reliably profit at the goal level? Can you scale nicely if you do waaaay better than you expect? The answer to both those questions needs to be yes.
Research stretch goals. Don't just throw stretch goals up on the page. Research the per-unit cost of every single one and choose your stretch goal levels carefully.
Double down on lead generation. If you don't have an audience by now, you need to delay your launch date. If you do, though, it never hurts to up your advertising budget or double down on outreach.
Write and send press releases. See Jamey Stegmaier's Kickstarter Lesson #43: Press Releases on this subject. Do this 7-14 days before.
Send sneak previews to retailers. Do this about 7 days before. Again, the eternal king of sage campaign advice, Jamey Stegmaier, has a post for this.
Find collaborators for your Kickstarter campaign. Find a few friends, family, and associates you trust to help you reply to comments when they come in fast on the launch day.
Prepare Facebook ads. I like preparing my ads well in advance of the campaign, just so I can test their effectiveness on my landing page instead of the campaign when it's live.
I hope this list helps you prepare for your own Kickstarter campaign. If I left anything off, let me know and I'll add it 😀
---
Most Important Highways & Byways Updates
17 days to the campaign!
Last week, I gave away a copy of Ticket to Ride. This giveaway contest performed unbelievably well on Facebook. This week, it's a copy of Forbidden Island. If you want it, you've got a little over 24 hours after this post goes up to get it on the Highways & Byways Facebook page.
You can view the Kickstarter campaign page here.