Dev Diary posts are made to teach game development through specific examples from my latest project: Highways & Byways. Just here for Highways & Byways updates? Click here.
---
Sometimes the pace of life is hectic. I've had one of those weeks. My daytime job has me extremely busy on an important project. In the same week, I've released a blind play-test version of Highways & Byways and ordered a physical prototype.
Need help on your board game?
Looking for more resources to help you on your board game design journey?

It reminds me of another hectic week I had because of game development. Between December 30, 2016 to January 6, 2017, there was a lot going on. I shipped over 100 sets of War Co. cards to Americans for the Kickstarter. I coordinated international shipping with Snakes & Lattes for Canadian rewards and Games Quest for European rewards. I also signed the closing papers on a new home and moved in a little later on a bitterly cold day.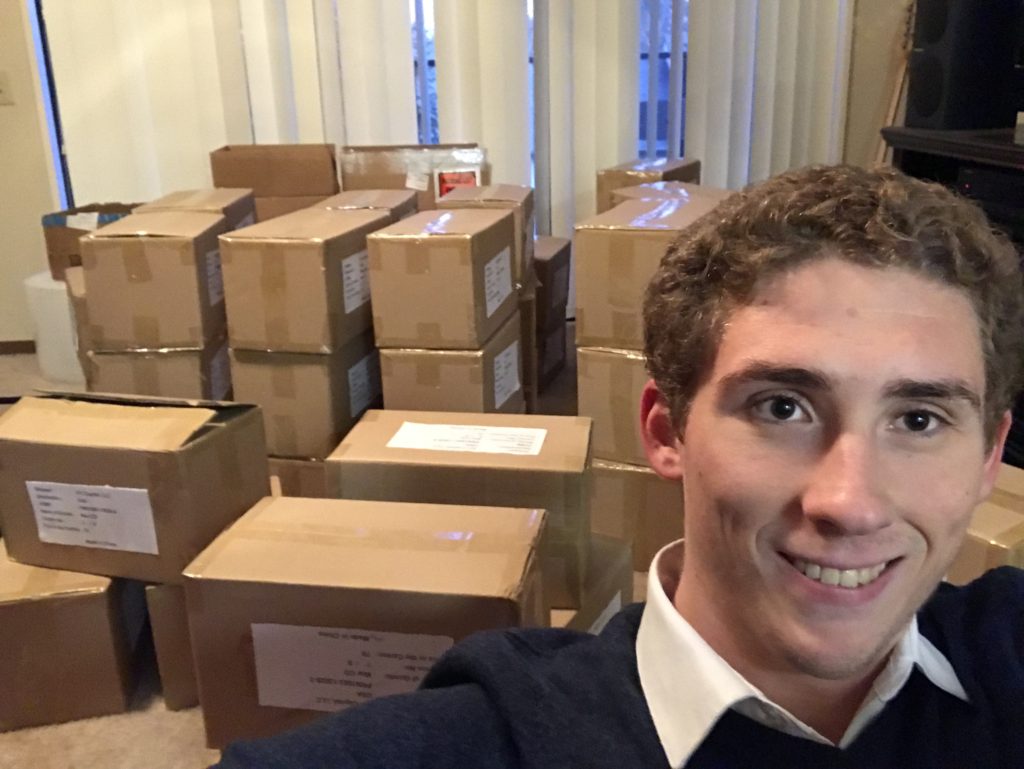 Needless to say, I don't recommend that you do this. It was the unfortunate result of two major life events awkwardly colliding. Yet the fact that I was able to pull this off is a testament not to herculean work effort, but rather lean processes. I'll tell you how to practice the same lean processes as well as how you can avoid the circumstances entirely.
While I've described in detail how you can fulfill rewards yourself, I don't recommend it for more than a couple hundred packages. There is a substantial cost benefit to fulfilling low order quantities like 100 yourself. You lose this advantage pretty quickly as third-party fulfillment companies such as Fulfillrite become more attractive. While I left international shipping to Snakes & Lattes and Games Quest, I took on all the domestic shipping to the USA by myself. In fact, I still fulfill domestic orders for War Co. (Don't believe me? You can always buy a copy 😉)
Self-fulfillment involves a lot of moving parts. To be any good at it, you need software like Stamps.com, adhesive labels, a fast printer, bulk shipping supplies, and transportation to get those packages to the post office. This isn't like when you have a little box and you put it in the mailbox with the flag up. Nuh-uh, that won't work for 100 packages.
Days prior, I'd ordered all the supplies I needed. On New Year's Eve, I started printing off postage dated for January 3, which was the first day the post office would actually be open. It was also the day before I moved. I spent most of New Year's Eve putting War Co. in ULINE mailers. Then I slipped those ULINE mailers in priority mailers and slapped the postage on them. I wound up paying somewhere in the neighborhood of $500-600 on the postage.
I was unable to run the packages to the post office myself on the weekday, so my brother helped out. He picked up boxes full of packages and loaded them into his car. They took up all of the backseat from what he says. The post office scanned a single sheet that corresponded to all packages I had to ship. Then they got to work putting them in the mail system after my brother dropped them off.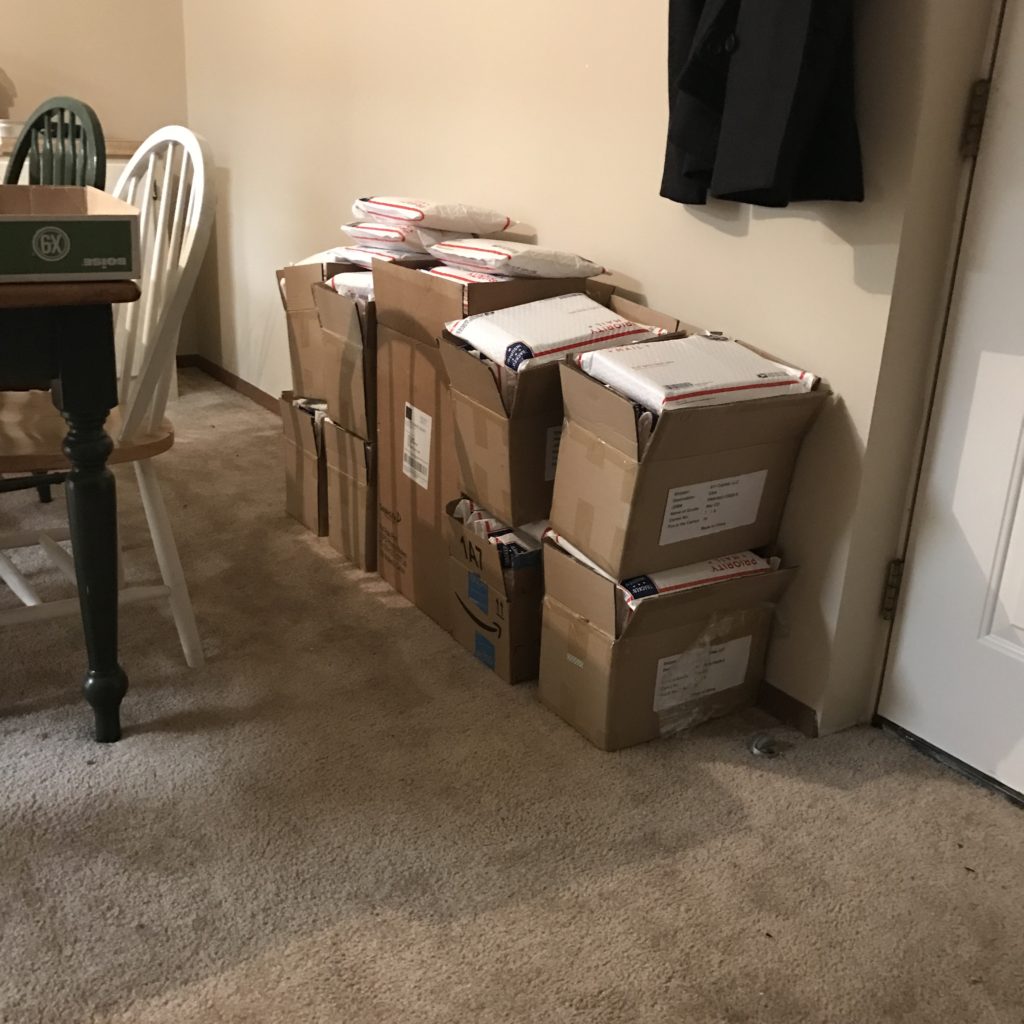 It was initially my intention to stagger the fulfillment where Americans, Europeans, and Canadians would all get their cards at the same time. Then a handful of Australians would get them a few days later. I wasn't quite able to do this, but I got close. After all, in order to do this, I would have had to hold on to the American stock for another week, thus hauling 200 pounds of packages into my new house. That's U-Haul space I wasn't willing to give up, so I fulfilled American rewards about a week early. The day after the packages were dropped off at the post office, I got the keys to my new home. Two days later, I started moving in.
---
I have five pieces of advice for anyone who finds themselves in a situation like this:
Buy everything you need to ship – and buy it early. That includes a postal scale, packing tape, mailers, bubble wrap, cardboard inserts, and boxes. Calculate what you need in advance and buy twice as much as you think you need. You can find most of this stuff pretty cheaply through ULINE and Amazon, but you need to account for time for your shipping supplies to be shipped to you.
Learn how to batch import addresses to postage software. If you're entering people's addresses by hand after Kickstarter or online orders, you're doing it wrong. You need to export them as a CSV and upload them into postage software, such as Stamps.com. Don't try to use the USPS site for something like this. Don't do something as time-consuming and error-prone as manual entry.
Make sure you've got money ready for postage. It seems like a no-brainer, but you need to have cash available for postage. You're charged when you print postage, not when you ship.
Make sure you've got an elegant system to track what you've packed. I recommend keeping an Excel spreadsheet. You want to know what you're sending and who gets it. With War Co., every order was a little different because you can get any combination of two, four, or six out of six decks. Nobody got the wrong order, because I was tracking each one and only checking them off after I packaged them, checked the contents, sealed them, and applied postage.
Turn up the music. Seriously, do you know how mind numbing six hours of preparing packages can be?
Phew. I feel waves of stress from that time even now, ten months later. Do you have a war story of fulfillment? Questions on a campaign you're about to fulfill? Leave a reply in the comments, I'd love to hear from you 🙂