Sagrada is one of my recent favorite board games. It is fundamentally a pretty simple game, but it has a lot of really endearing qualities. First and foremost, it's absolutely gorgeous to look at. The dice are bright and pretty, as are the puzzle boards on which you build stained glass arrangements of dice. It's ultimately a puzzle game, but a very attractive one with some subtle elements that arise from it being a nearly perfect information game where players draw from the same draft pool. It is also a smashing success of a game – so let's talk about why that is.
Need help on your board game?
Looking for more resources to help you on your board game design journey?

First, let's do a quick rundown of how Sagrada works. Your objective is to score the most victory points. You do so by placing colorful dice on a 5 x 4 grid in such a way that you meet conditions spelled out on one or more public objectives and/or your private objective. You also make sure to fill in as many spaces as possible on your board and keep as many "favor tokens" as possible by the end of the game.
There are ninety dice in the game, of which there are five different colors. Each player will roll a certain amount of dice (2 for each player plus 1). Then you snake draft around the table and everybody picks one die to place on their board. Certain spaces on your board can only hold certain colors, certain spaces can only hold certain numbers, and some spaces have no restrictions. No matter what: no two dice with the same color or number can be adjacent to one another on the board.
Got all that? Good – because that's basically Sagrada. There are few other elements, but that's the gist.
1. Looks matter.
You can't talk about Sagrada without gushing about the colors. In fact, this warrants another photo…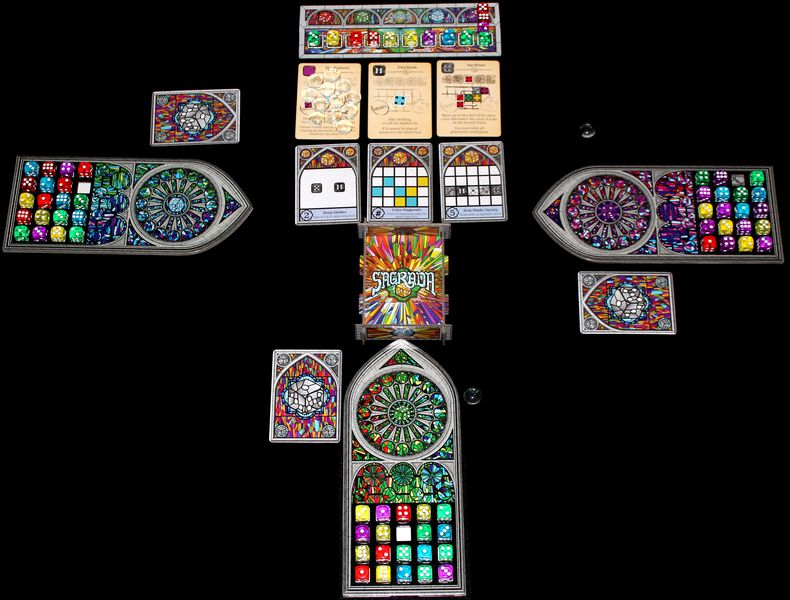 The bright, colorful dice, the gorgeous card backs, and the stained glass cardboard player boards are all incredibly photogenic. This game came out in 2017 and the creators knew that in order to succeed on social media, it had to make people stop and click. And boy did it! There was a while on Instagram where you couldn't go 10 pictures on a board gamer's Instagram feed without running into this game.
The key takeaway is that you need to be mindful of how your game looks and feels. This is not just because of the experience that gamers will have when they play it on the table. Gaming goes deeper than that. A lot of gamers – and people at large – experience things by sharing them through photos with their friends. Once you realize people are doing this, you can make games that are perfect for that kind of behavior, like Sagrada.
2. Combine chance with choice like Sagrada.
There is an old running gag in the board game industry about board gamers hating dice. Sagrada has 90 of them. Yet Sagrada doesn't use dice like "roll a 6 and this happens." No, they use dice as pieces with variable states. For example, in a four-player game of Sagrada, you start with a draft pool of 9, of which each player will eventually receive 2. The active player will always have one or more choices of dice to choose from and then an additional choice of "where do I put this on my board?" to make.
The point I'm making is that you can incorporate chance. Chance elements are valuable in game design because they keep games from being "solved" in the same way that chess – a perfect information, zero luck game – ultimately was. Yet adding an element of chance haphazardly can make the game feel like it's playing you instead of the other way around. For that reason, you always want to make sure that gamers can make meaningful choices based on the chance events that occur.
3. Make your restrictions easy to remember.
In Sagrada, you can't have two dice with the same number or color adjacent to one another. Easy to remember, right? While this creates a very real struggle that informs your decisions throughout the game, it's not gimmicky and you're not likely to forget it. This is an underrated strength of Sagrada. There are a number of ways this could have been implemented poorly. Take note, aspiring game designers!
4. Make passing a rarity.
The restrictions above will every once in a while cause you to cede your turn entirely. This is arguably one of the worst feelings that a game can give you. Losing your turn, or having to cede your turn because you can make no legal moves, generally feels awful. Yet this becomes a very real risk when you have easy-to-remember restrictions that apply to a lot of situations.
Sagrada has an easy way around this that greatly minimizes the amount of turns that you will have to pass. It comes from tool cards which allow you to take certain actions after you place favor tokens on them. Most of the time, you're better off simply placing a die on your board and holding on to your favor tokens until the end of the game for extra victory points. However, when you're truly stuck, the tool cards let you continue to influence the game in interesting and engaging ways. I like that aspect of Sagrada a lot.
If you truly must create a game where passing is an occasional necessity, it may be worth adding an extra mechanic that allows players to continue to take actions. Typically, you want to implement the fewest mechanics possible to decrease rule overhead. However, allowing players to continue to play and stay engaged is a good reason to make an exception to this heuristic. Learn from Sagrada in this sense.
---
I enjoy Sagrada a lot and I find it to be an excellent example of a modern board game. In a world where Scythe and Gloomhaven remain topical for years after their initial release, Sagrada is a remarkable example of what it takes to make gateway games that stay appealing over time.